Lecture Phase
The first 12 weeks of DTS is called the Lecture Phase. During Lecture Phase you will hear inspiring speakers from different parts of the world share their wisdom and experience on topics such as:
Hearing the Voice of God

The Nature and Character of God

The Father Heart of God

Worship, Intercession

Spiritual Warfare

Jesus & The Cross

Identity & Destiny

Relationships

Biblical Worldview

Evangelism

World Missions
You will learn how and why:
God seeks to make Himself known to all people.

God desires to have relationship with people and share His heart with them.
God wants to impart a life-changing understanding of Himself and His ways.
God wants to reveal The Holy Spirit, showing aspects of His power and truth.
God encourages us to respond personally to Him in worship, prayer and obedience.
God longs for us to nurture a love and hunger for the Bible, to read it in such a way that transforms our beliefs, values and behaviors.
God is always speaking to us, and desires for us to cultivate the lifestyle of hearing and recognizing His voice.
The purpose of DTS lectures is to give each student tools to live a Christian life the way God intended. That means living a life of freedom and purpose, knowing your authority, and showing practical love for God's people. We believe in a 24/7 live-learn environment where students and staff live and work together in community on the YWAM base.

Evangelism and Local Ministries
In addition to classroom learning we strive to get out to the streets of the city where the locals are to share the love of Jesus. Putting what you learn into practice is a big part of DTS so you will have opportunities every week to be part of local ministries we run in the city. This could be playing soccer with kids, going to rehab centers, visiting impoverished neighborhoods and lending a hand, handing out bibles, or spending time with the homeless. God works through us in marvelous ways when we just say 'Yes' and go. You will also learn about the ministries YWAM Mazatlan is involved in locally such as Homes of Hope, and Bibles for Mexico.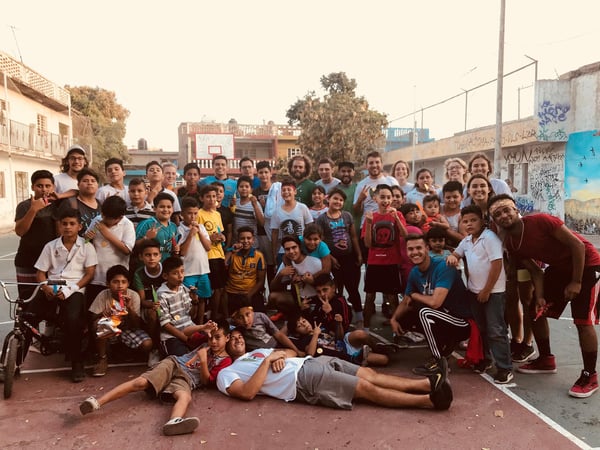 Corporate Base Times
Being a family is a huge part of YWAM Mazatlan and we are always happy to welcome new students into our international family! We are a close community of staff members consisting of singles, couples and families. We work, eat and play together and we enjoy being a part of the DTS students' journey in getting to know the Lord. As a base we have weekly times of Worship and Intercession. God is passionate to have us seek Him and as we do He keeps showing up, more and more and more!
Work Duties
Students are assigned a daily Work Duty on the base such as cleaning, helping with maintenance, hospitality, or working in the kitchen. We believe that true discipleship is learned through serving and being faithful, so part of the DTS focuses on teaching students the value of work. This is done through daily practical service on the base. Work duties are between 1-2 hours a day, Monday through Friday. Students will also be on Weekend Duty rotation with the staff, where they will work as a team to keep the base running 2-3 Saturdays or Sundays during the lecture phase.