YWAM IN MEXICO
YWAM has already accomplished much in Mexico. We have built over 1,000 homes in the last ten years. Tens of thousands of short-term youth have taken their first step in missions in the nation of Mexico. Over 500 people have come through YWAM Mexico's Discipleship Training School (DTS) programs in the last ten years. Several churches have started as a result of YWAM's work in the most unreached parts of Mexico and small groups from Mexico have been sent to the 10/40 Window where some now work long-term. YWAM Mexico's focus includes three major concentrations. The first is mobilization: to send out teams to the Middle East, Africa, China, and many Latin American countries. YWAM has twelve locations in Mexico, and they all are promoting world missions, increasing missions awareness in Mexico. They also focus on training. Seven of the Mexico locations offer a DTS, and very soon they will add a School of Frontier Missions and a Foundations of Community Development School. Third, YWAM Mexico has mercy ministries that include everything from mobile medical clinics to children's homes to house construction for poverty-stricken families. As YWAM Mexico grows, their locations have staff needs from maintenance, kitchen, and administration staff, to DTS and worship staff. YWAM Mexico hosts multiple ministry opportunities at its different centers, and by contacting these centers, you can get involved in the diverse and growing programs offered.
More about Mexico
Mexico is a vibrant mix of modern and traditional, with roots from indigenous cultures and European settlers flowing through their daily lives. The land is varied, with many attractions, from traversing the Mayan ruins and touring the world's largest capital city to surfing the Mexican Pipeline.
Culture
The Mexican people are some of the warmest, most welcoming people that you could ever meet. A typical greeting is a kiss on the cheek (unless it's a man greeting another man), so don't get the wrong idea. This is just the Mexican way of welcoming a person in. When someone walks in the room, they will greet each person that they see… everyone is special and valued here! Hospitality is just a natural part of life here, so don't be caught off-guard by their friendly spirit. It is not uncommon for someone you have just met to invite you home with them – once you've made a friend, you'll always have a place to stay! "Mi casa es su casa". Family is also a very important part of life for the Mexican people. Sunday is commonly known as "family day" because, as it is often their only day off of work, most families dedicate it to being together, strolling along the boardwalk, going out for tacos, or just hanging out. Sharing is something all Mexican children learned in kindergarten… if a bag of chips is opened, everyone gets a share… no one is left out here! "What is mine is yours" is definitely a saying you can live by. One of the greatest parts of Mexican culture is their love for celebration and their zest for life. Mexican "fiestas" (parties) are usually bright and colorful, full of love and laughter, accompanied by loud, traditional music, and abounding with heaps and heaps of traditional food! One thing Mexicans definitely know how to do is celebrate!
Holidays
Mexicans celebrate many of the same holidays as the United States and Canada, like Christmas, Easter, New Year's, Labor Day, etc. But they also have many unique holidays, with a very special way of celebrating them…
Día del Niño (Kid's Day) – April 30 – Schools, churches, and everything in between, celebrate this special day! Often, mini-carnivals are set up with games, candy, piñatas, and prizes to celebrate being a kid!
Cinco de Mayo – May 5 – Mexicans commemorate the defeat of the French at Puebla in 1862. This holiday is actually celebrated more by Latinos in the US than in Mexico, but schools and businesses are closed at least for this national holiday.
Independence Day – September 16 – This celebration begins the night before at midnight when mayors and the president give the Mexican "grito" (shout) as everyone gathers in the town center and joins in yelling, "VIVA MEXICO" (long live Mexico). They are all celebrating Mexico's independence from Spain in 1810.
Día de los Muertos (Day of the Dead) – November 1-2 – Though it may sound morbid, this holiday is actually a celebration. It stems from an ancient indigenous belief that the souls of the dead return each year to visit with their living relatives. Families decorate the graves of their departed with flowers, food, and candies.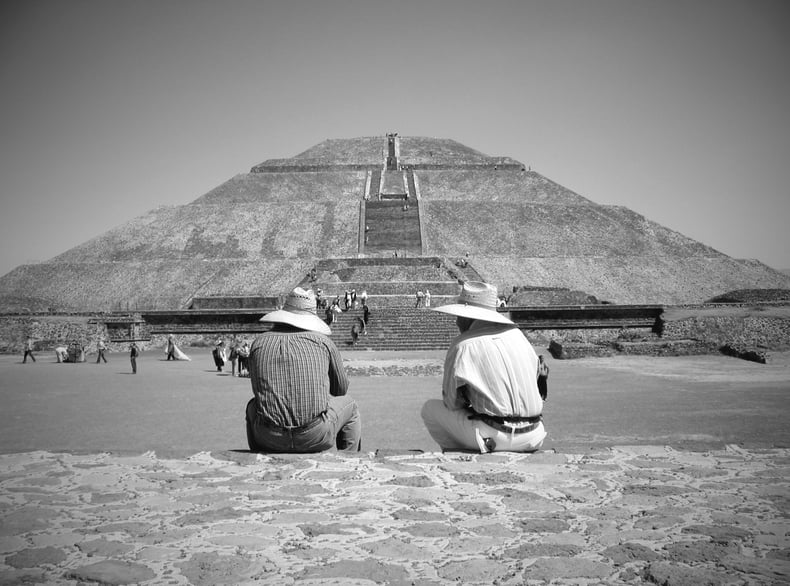 History
For more than 3,000 years, Mexico was the site of several Mesoamerican civilizations, including the Aztec, the Olmec, the Mexica and the Maya. Invention and discovery pulsed through these ancient cities, which were centers for art, mathematics, astronomy, theology, and politics. Among the accomplishments of these civilizations are the creation of a highly accurate calendar, being the first to use number zero, and discovering chocolate. The arrival of the Spanish in the early 16th century brought an end to the thriving empires. Smallpox, it turned out, was one of the greatest Spanish weapons. The new disease wiped out a substantial percentage of the indigenous population. The Spaniards ultimately defeated the Mexica in 1521, marking the beginning of the 300 years of Spanish rule. With the new leadership came the introduction of the Catholic faith. Marriage was common between the settlers and the indigenous people, creating a new culture of combined customs and traditions. In 1810, Catholic priest Miguel Hidalgo y Costilla spoke out against the Spanish rule with a cry for independence, setting in motion an 11-year war that ultimately led to the creation of the free Mexican Empire.
Geography
The Mexican landscape is testimony to God's love of beauty and diversity. In an area roughly three times the size of Texas, there are desert landscapes and snow-capped volcanoes and miles of beaches. Over time, man has filled this land with ancient ruins, teeming industrialized cities, time-warped colonial towns, and glitzy resorts. Climate October to May is mostly mild and pleasant, though it's colder inland from December - February. May to September can be hot and humid, particularly in the south and along the coasts (Mazatlan is a perfect example of this).
Politics & Economy
Mexico's currency is the New Peso ($). The country's free market economy includes a mixture of modern and outmoded industry and agriculture. Income distribution is generally poor, and ongoing economic and social concerns include low real wages and underemployment. The capital, Mexico City, is the highest city in North America. It's also the world's largest capital, more than twice the size of greater London and home to more than 20 million people. The city was actually built on a lake (see the story about the flag below), and as the aquifers collapse, scientists claim it is sinking at a rate of 10 inches per year.
Religion
The majority of Mexicans are Roman Catholic (89%), with only 6 percent calling themselves Protestant and 5 percent claiming other religions. The Mexican Flag is green, symbolizing hope; white symbolizing purity; and red, the union. The emblem-shield symbolizes Mexico's Aztec heritage. According to legend, Aztec gods spoke to their people instructions for where to establish a city, giving them a vision of an eagle perched on a cactus devouring a serpent. The place where the Aztecs saw the eagle was a marshy lake in central Mexico, which is now the main plaza in Mexico City.