WHY HOMES?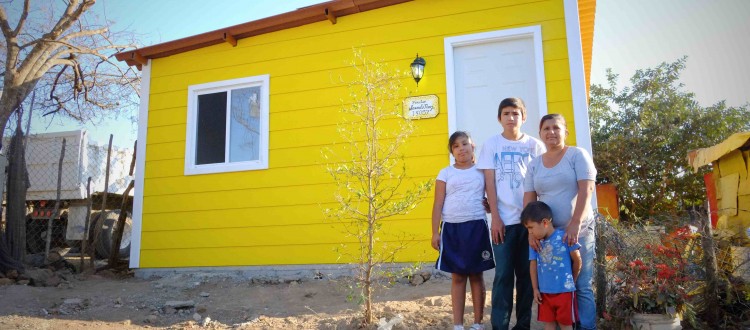 POSITIVE IMPACTS OF HOUSING A FAMILY
In Latin America, households need 5.4 times their annual income to buy a house – Source: AHS
50-75% of family dwellings are owner-built – Source: JCHS Harvard University
30% of all dwellings are made with rubbish – Source: INEGI
ECONOMIC IMPACT
Debt-free home helps leverage families out of poverty. Funds are not going to treat sick children and keep them warm, instead they can purchase resources for school and other necessities.
EDUCATIONAL IMPACT
A child without a home is 3 times more likely not to attend school – Source: endhomelessness.org
A child's poor educational experiences limit future productivity and career prospects – Source: endhomelessness.org
Stable environment encourages learning and is more likely to have a child that will attend and stay in school.
HEALTH IMPACT
2.5% of children under one die of exposure – Source: La Cronica Mexicali
Homeless children are 2 times as likely to suffer from asthma, ear infections, stomach and speech problems – Source: nationalhomeless.org
Moving from dirt to a concrete floor reduces reoccurring diarrhea by 43% – Source: nationalhomeless.org
Reduces incidence of sickness due to dirt floors and exposure improves overall quality of life.
SOCIAL AND EMOTIONAL IMPACT
Children without adequate shelter suffer more from mental health problems such as anxiety, depression and withdrawal –Source: nationalhomelessness.org
Children are twice as likely to experience persistent chronic hunger and four times as likely to experience delayed development when homeless - Source: nationalhomelessness.org
Stabilizes emotional well-being, home life and marriage, as basic issues of survival are eliminated.
SPIRITUAL IMPACT
Families struggling to keep their children safe and dry each night feel trapped. They find it difficult to see beyond their situation.
Practical demonstration of God's love for them inspires a response to want to give back.